UNO ECHO Review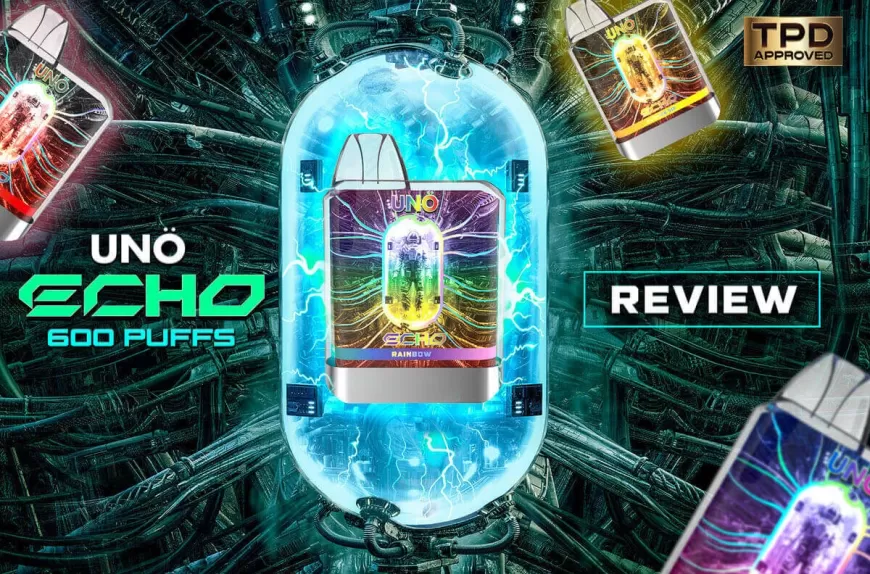 ECHO, a newbie of the UNO galaxy and the wave of the future has arrived; it's a name that a vaper cannot get over it!
At Vape UNO, quality always comes first, and UNO strives to come up with original flavours and designs - to keep things interesting and new.
UNO strives to be the best "mad flavour analyst," developing exciting new flavours that provide irresistible smooth draws and throaty hits.
UNO disposable vapes are of high quality that ensures easy and convenient vaping. The brand aims to provide its vapers with the innovative and trendiest disposables just like their newly launched-UNO ECHO.
ECHO – A WAVE OF THE FUTURE
UNO ECHO disposable vape is a cosmic marvel that will definitely make it easy and convenient for people to explore the vaping world!
This device comes with pre-filled e-liquid in a variety of intergalactic flavours. UNO ECHO works on draw-activated firing system that will send you into the space.
This disposable vape will offer you more than 600 puffs and just like other disposables, it requires no assembly, so you can begin vaping right away.
This UNO disposable comes with 500mah battery that will serve you delicious flavour for days.
Flavours | UNO ECHO
Are you excited to try the latest UNO ECHO, which is available in 15 uniquely-blended flavours?
These will take your vaping experience to the GALAXY!!!
Black Dragon Ice:
With every puff, this flavour you will offer the taste of sweet berries and cool icy mint that will make you enjoy a flavour-filled vaping adventure.


Blue Razz Slushie:
Try out the taste of fruity blueberries, sweet and sour raspberries along with a slushies cool taste and enjoy a tangy twist fruity ride.


Cherry Cola:
If you love fizzy drinks, then you must try this flavour! In this, you will get the taste of fresh cherries with the refreshing fizzy hits of your favourite cola. If you like such flavours, you can still try the same by UNO 4K.


Cherrylicious:
A must try flavour for sweet lovers! You will get the taste of mouth-watering cherries blended for a quick vaping session.


Jolly Apple:
Are you a fruit lover? This UNO ECHO flavour will make you enjoy the crunchiest apple taste for an instant fruit rush.


Jolly Candy:
To satisfy your sweet cravings, you need jolly candy flavour. It combines a fun, fruity taste of candy - to make you feel happy and content.


Mad Blue:
Mad blue is a good combination of berry notes, including the rich taste of blueberries, blackberries, and raspberries.


Rainbow:
As the name indicates, this vape juice will make you enjoy sweet and juiciest fruity flavours for a smooth and rich vaping experience. The same flavour is also available in UNO NOX, which offers the similar puff cunt.


Snow Cone Ice:
A cool and tropical fruit flavour that is mostly loved among the menthol-allergic vapers. This will give a refreshing breathe of air wrapped in a cool icy blast.


Strawberry Fan-ta:
A newly-created, rich, smooth flavour, combines strawberries and iced-soda of orange - to give you a sweet and tangy taste.


Strawberry Ice cream:
Nothing can taste better than ice-cream in a hot summer day! Try this UNO ECHO flavour of ice-cream perfectly blended with delicious strawberries.


Strawberry Kiwi:
Try out this cool, refreshing taste of kiwis which are well-blended with the fresh strawberries.


Summer Sip:
Sweet and refreshing flavour of berry lemonade and lighter notes of lemon to give a zesty taste, just like a sip of sunshine.


Tiger's Blood:
Do you need a unique and exotic flavour in your disposable vape? Try this and enjoy the real taste of tropical watermelon, juicy strawberries, and creamy coconut.



Watermelon Candy:




A never-miss disposable that combines the rich flavour of cool watermelon and your favourite candy.
Buy UNO ECHO Disposable Now!
When it comes to dynamic, on-the-go disposable, UNO comes to mind; try their latest addition, ECHO, and do share your review with us in the comment section below.
Write a comment